Oh I have a deep one for you this week!  I hate to admit it, but there are days that I really dwell in my past so this challenge came right at the right time - I am letting out some of my feelings I keep inside so much.
So join me this week in writing a letter to your past self (2 lucky peeps will win GC's from One Little Bird & Gina Miller Designs!).  Here's some inspiration for you:
by me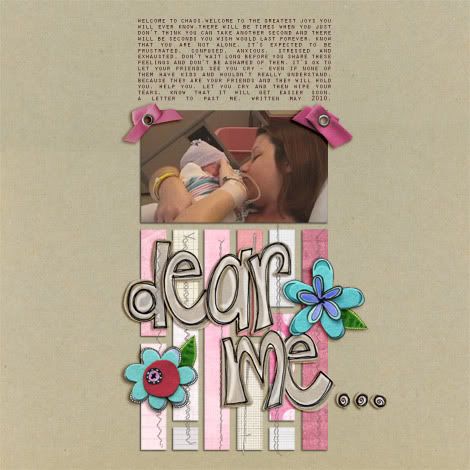 CREDITS: Kraft paper by Traci Murphy, various papers by Shabby Princess, Meredith Fenwick, Nancie Janitz and Lauren Grier, stitches by Two Sisters, flowers, leaves and alpha by Kate Hadfield, photo corners by Anne DeJong, and super amazing template Simple Singles Vertical #6 by Gina Miller.
by Emily


CREDITS: Once Upon a Story by Emily Merritt and Lili; Scribble It by Emily Merritt; Kraftaddict by Valorie Wibbens
by Lex


Credits: Walking On Sunshine collab by Jennifer Barrette and Tracie Stroud, Gentle Whisper templates by Crystal Livesay, font: AFL Font Nonmetric BT
by Nikki


Credits: Doodley Doo Papers by Jacque Larsen, Colorful Cardboards by Kate Hadfield, Alpha and Stringed Buttons by Designs by Lili, Doodled Flowers by Lauren Grier, DJB Lizzy Fizzed Out by Darcy Baldwin
by Lauren


CREDITS: Shelleyrae Paperies Stacks,Kate Hadfield Doodles Paper Hearts; Doodled Tapes,Natalie Design,ay doodled bird; doodled hearts, Kaye Winiecki House of Love doodled heart, CD Hoo Owls You doodled trim, frame Jenna Desai Doodle Art flower spray, Creashens Lulu Rocko note, Holliewood Studios Scarlet Alpha, Valorie Wibbens Chunky Stitched Alpha, Font CK Ali's
by Kelleanne
CREDITS: Monotone by Fruitloop Sally and Cinnamon Designs, Stitched Alpha by Kristin Rice, Forecast by Emily Merritt, Finishing touches 2 and 3 by Karah Fredricks, font Pea Seelekish